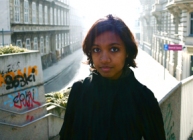 Sruthi has worked on radio stories that have aired at various shows, including
Reply All
,
Love + Radio
,
Studio 360
,
Radiolab
,
Marketplace
,
Freakonomics
,
Transistor
, and
The Splendid Table
. She won the 2013
PRX STEM
grant, supported by the Alfred P. Sloan Foundation, and the
Science Media Award
for best radio story in 2014.
Sruthi graduated from the Columbia University Graduate School of Journalism with honors, while assisting at the BBC-NY Bureau and a documentary production company, where she worked on the award-winning feature film,
Kumare
. As the audio/video correspondent at
The Economist
, Sruthi worked on political stories and traveled between cities and villages in India to produce an Economist
video series
on rural education and the informal economy in slums.